My dream has come true, not quite. A local English newspaper has reported that giant foorptints have been found in the lovely Cotswolds area of Central England.
Sadly, i am skeptical as the footprint shown in the picture could have been formed by many 'non bigfoot' means. Anyway here is the story.
Bigfoot in the north Cotswolds?
Tewksbury ADMAG. 30th August 2012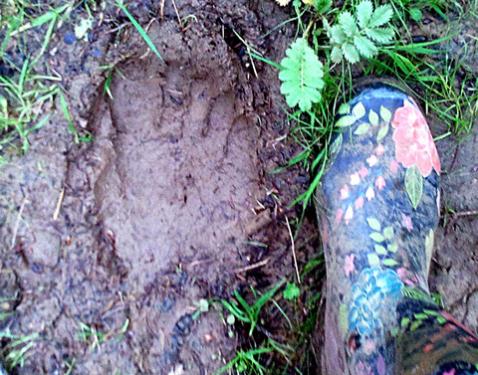 A SPOOKY set of huge footprints found at Mill Dene Garden in Blockley have baffled people in the Cotswolds.
Melanie Aston, who teaches swimming at Mill Dene and often takes her dog for a walk in Bourton Wood on Saturday mornings, found some large unshod footprints near the toilets by the car park earlier  this month.
Her size seven wellies were dwarfed by the huge prints, which she said seemed fresh. However, she could not see anyone else around.
"They went over some really rough ground but there was quite a distance between each print almost as if they where avoiding the really wet mud," she said.

"They went right down to where the path goes over the brook then divides into three directions, which is where I lost track. It's really quite spooky and I'm not such a frequent visitor since."
Mill Dene owner Wendy Dare said: "I honestly have no idea what it is. The footprints are very large."
It would be interesting to see what becomes of this story or whether other witnesses have also seen footprints in the area.